Why Ayski?
Ayski is Your Industry Leader for Promotional Advertising
For years Ayski has been an industry leader in Custom Promotional Products. As specialists in the field of brand advertising, promotion and marketing, we have the knowledge and skill to create unique products that reflect your corporate brand and culture.
Choose Ayski for Your Creative Private Label Products
Here at Ayski we understand that you want to set yourself apart. We know you need to differentiate yourself from the rest of the marketplace. We pride ourselves on providing our clients with custom Private Label items that are innovative and also stand the test of time. Our years of experience will help you deliver the "WOW" factor to your customers.
Over 1,000,000 Products at Your Fingertips
Search our extensive database of popular product categories. We have access to more than 1,000,000 quality products and relationships with more than 3,500 factory suppliers. Choose the items you like and add to your cart. Submit your cart to our branding experts for immediate feedback. Or click on Request Info or Request Quote and a branding expert will be in touch.
The Start of a Great Relationship
Your personal branding expert will be in touch quickly — to learn more about your project, make product recommendations and assist with your logo artwork. Or if it's more convenient, contact us.
Ayski Always Keeps You in The Loop
You're in the best of hands. We expeditiously place your order and keep you in the loop on the particulars, including production schedule and shipping status, as well as providing virtual proofs before the item is customized.
We Guarantee Satisfaction
After your order has been delivered, your personal branding expert will be in touch. If you're not completely satisfied, neither are we. We'll make it right. It's who we are, and what we do.
With its service-driven mission and 24/7 access, Ayski Promotional Products takes the guesswork out of building brand value. Our streamlined, seamless purchasing and invoicing processes will make your time with us easy and effortless.
If you're new to Ayski Promotional Products, welcome. If you're a loyal customer, welcome back. Regardless, rediscover the lost art of customer service.
Found what you're looking for? Use your secure shopping cart to check out.
Browsing? Click on Request Info or Request Quote and a branding expert will be in touch.
Featured Item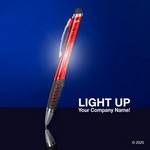 Luminate Delta Stylus Pen
Features LaserSharp™ Engraving, comfort grip and a unique illuminating imprint. Includes a touch screen stylus tip. Black or blue ink optional. Default ink is black.
$1.60 - $1.82
Signature Showrooms